The pandemic last year tried to take away the charm of a vacation, an idea we all used to look forward to every year. But, with the ease of lockdown guidelines and better situations across the country, people are looking for safer and closer-to-home venues for a fun-filled, memorable and enjoyable holiday. For all the people out there near Delhi/NCR, if you are yearning for a holiday amidst nature and vast expanse of greenery, now is the time to plan a picturesque trip from Delhi to Mussoorie.
Situated amidst the mountains, Mussoorie is fondly called 'the queen of hills', and is full of scenic surroundings and tranquil ambience. It is a perfect escape from your monotonous and boring city life, and offers refreshing, panoramic mountain views. This is an ideal place to make the most of your Himalayan vacation, complemented by numerous facilities and activities. 
Hotels and resorts play a very important role in adding up to the overall charm of any trip. Cutting the chase here, Jaypee Residency Manor is among the best resorts in Mussoorie, offering discerning luxury services and state-of-the-art accommodations to all the guests. Set on a hilltop at 7000 meters above sea level, our widespread resort is equipped with all the requisites of an enjoyable holiday with family and friends. Once you are settled here, you can make extensive and elaborative plans to visit many famous places and spots nearby.
Must Visit: 5 Reasons To Visit Mussoorie on the Next Weekend
Here we have compiled a list of 8 places in Mussoorie to be explored and enjoyed by you and your family/friends.
Mall Road
Mussoorie is a tourist place with many finest places to explore. One of such places to visit in Mussoorie is Mall Road. Mall Road is a renowned sightseeing place situated in the heart of Mussoorie. It is dotted with shops, cafes and a host of colonial remnants that point to Mussoorie's past glories. It is one of Mussoorie's famous places with skating rinks for travellers to revel in various entertainment activities. The Mall also has a Methodist Church, and the Tibetan marketplace nearby makes for a diverse cultural mix.
Must Visit: Luxurious Hotels & Places to Stay Near a Touch of Elegance
Kempty Falls
Situated at a height of almost 4,500 ft from the sea level, the Kempty Falls is one of the most famous scenic attractions in Mussoorie. The waterfall has a height of 40 ft. and the sight of frosty water falling down the mountainside is quite mesmerising. The curious name of this waterfall is derived from the words 'camp-tea', which was popularised by British tea parties held here during the colonial era. The falls are also a popular swimming and fishing destination in Mussoorie.
Gun Hill
A place made famous by a pre-independence ritual of firing a gun to give locals an idea of the time, Gun Hill is one of the must-visit tourist places in Mussoorie. The Gun Hill is situated 400 ft above the Mall and can be reached via a ropeway. It offers a panoramic and mesmerising view of the Himalayas and Mussoorie town.
Also Read: Jaypee Residency Manor Hotel with a View Perfect Weekend Getaway
Lal Tibba
Lal Tibba is the highest point in Mussoorie and offers a panoramic view of the town and its surroundings. The place is famous for a Japanese telescope which was placed here in 1967. One can view Badrinath, Kedarnath, Banderpunch and other Himalyan ranges from this telescope.
Lal Tibba is also called Depot Hill due to the presence of a military depot here in earlier times.
Also Read – Mussoorie: A Walk Through the Mountains and into the Clouds
Cloud's End
It is a location about 6 kilometres west of the Mussoorie Library. Cloud's End lies at the ends of Mussoorie's boundaries and offers mesmerising views of the valley.
Cloud's End can be reached by hiking through the Hathipaon Road from Happy Valley. However, tourists can also avail a car for hire service to reach Cloud's End from Mussoorie's city centre.
Also Read: Top 2 Weekend Getaways From Delhi Under 6 Hours – Mussoorie & Agra
Camel's Back Road
It is a 3 kilometre stretch of road which has a natural display of rock formations. The unusual formations are in the shape of a camel's hump, hence the name. The road connects two major locations of Mussoorie, namely the Library point and the Kulri Bazaar. Camel's Back Road offers scenic views of sunset sand sunrises over the horizon, with the Himalayan ranges providing the perfect backdrop for some nature photography.
Municipal Garden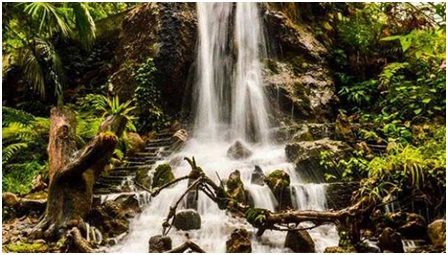 Also known as the Company Bagh, its colonial-era name, the Municipal garden is situated in the Happy Valley. It is an expanse of natural landscape moulded into a scenic beauty with human expertise. The garden is also called the Botanical Garden, due to the diverse plant species present here. The garden is an apt place for bird lovers since a number of exotic avians nest here. A huge China tree is one of the main attractions of the Municipal Garden. The garden also has an artificial lake where tourists can avail leisurely boat rides.
Dhanaulti Eco Park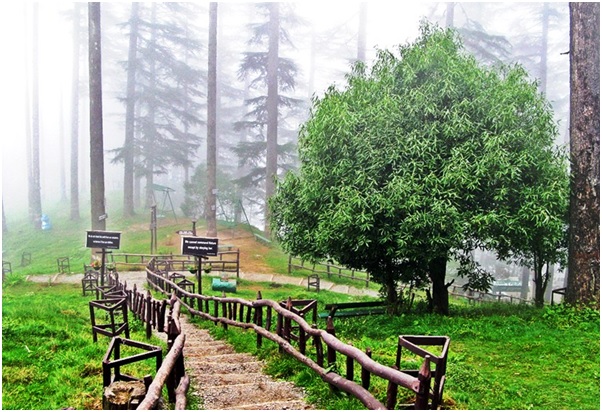 Located near Mussoorie, the Dhanaulti Eco Park is divided in two smaller areas, Amber and Dhara. It is a botanical park, and houses a large variety of trees and plants. The park is famous for conifers and native Deodars, and is home to a number of endangered bird species as well.
The park has several adventure sports and activities for tourists, such as rock climbing, flying fox, sky walking, etc.
All these places are situated at an accessible distance from Jaypee Residency Manor, the best resort in Mussoorie. We also provide easy commutation for your travel and sightseeing in Mussoorie. Our resort provides you with all the features of a memorable vacation, like luxurious rooms/suites, delectable and curated menus, in-house dining restaurant, café and bar, spa, panoramic views, excursion activities and unmatched hospitality. We surely have all the facilities and amenities to make your vacation a truly enchanted one.
Also Check: