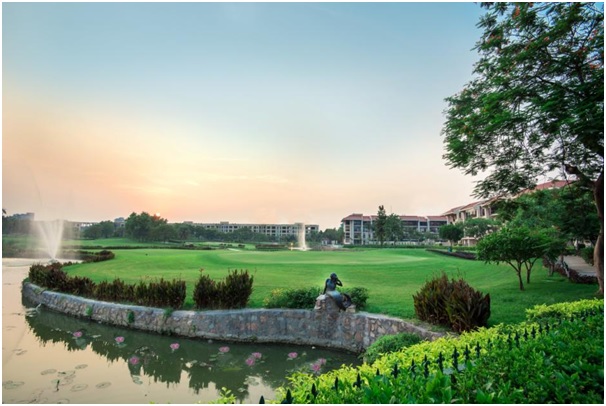 The extremely hot summers of Delhi necessitate an occasional getaway from the bustling city. However, sometimes the work and life commitments can prevent you from taking a ride to your favorite hill station during the summers. Jaypee Greens Golf and Spa Resort in Noida comes to the rescue when you need a rejuvenating holiday from the hectic life in the metro.
Visit here: Six Senses Spa- Pamper Yourself at Luxurious Spa in Noida
Jaypee Greens Golf and Spa Resort is one of the best 5-star hotels in Noida, the renowned financial district adjoining the national capital. The resort is spread over a vast expanse of lush greens, dotted with some of the most exotic plants and trees.
Jaypee Greens Golf Course
This super luxury golf course is designed by veteran golfer Greg Norman. The 9 acres of a landscaped golf course is a thing of picturesque beauty. You can get a membership by contacting the Jaypee Hotels front desk.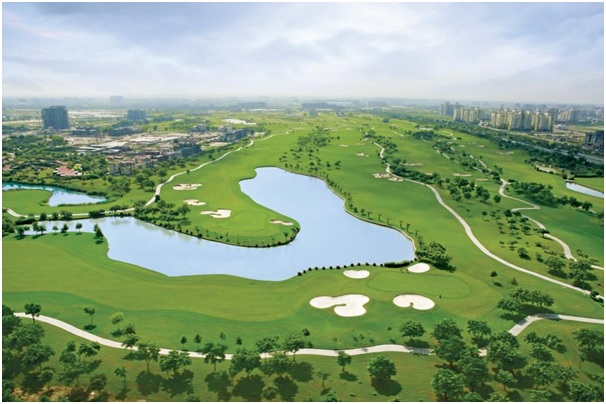 The resort also has a golf academy for budding and enthusiast golfers. A great place to hone your golfing skills and make some new friends.
Visit here: Best Spa Resorts Near Delhi NCR to Relax and Rejuvenate
Premium Accommodation
The Jaypee Golf and Spa Resort is a 5-star luxury resort in Noida, offering state-of-the-art accommodation within its Deluxe Rooms and Suites. These expansive spaces have the finest of hospitality amenities and furnishings, giving you cozy comfort, exclusive productivity spaces, and supreme bath facilities.
Visit here: 5 Fun Weekend Ideas for Your Family- Resorts Near Delhi NCR
Exquisite Dining Experiences
The Jaypee Greens Golf and Spa Resort offers one of the best dining experiences in Delhi NCR. The resort has a number of diners, cafes and sweets shops to take your taste buds on a scintillating ride of delight.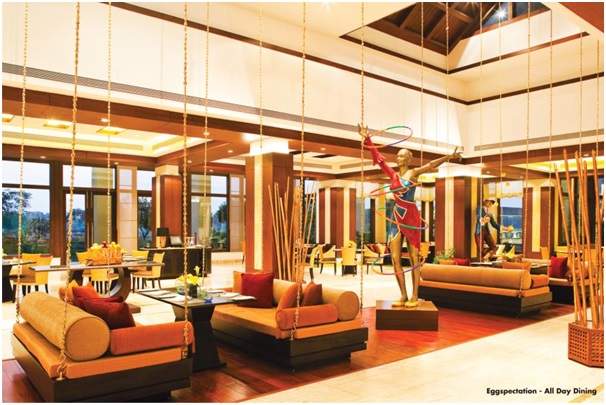 Xpectation is a unique resto-café, offering delicious platters of international cuisine.
Paatra is a fine dinner where our chefs prepare the choicest of contemporary delicacies from the north Indian frontier. You can revel into royalty and experience the meal prepared for Maharajas of India with exquisite 'Royal Table' experience curated specially by our master chefs.
The La Brezza is an Italian restaurant where your orders are served with a discerning sophistication. It offers an unparalleled culinary experience, making the dining experience an absolute delight.
Complementing the La Brezza is the Enoteca, an Italian wine bar where you can indulge into the wide array of 40 international and Indian wines to choose from.
The Matrix Lounge Bar offers an exclusive experience of the fine arts of drinking with its suave setting and an extensive list of spirits and wines.
The Churchill Bar is a gentleman's space, where you can smoke handpicked cigars from all over the world. The bar also offers an eclectic mix fo liquors to pick up your mood.
Apart from these savory encampments, The Jaypee Golf and Spa Resort in Delhi also offers a Bakers Studio and an exquisite Tea Lounge where you can savor the finest of pastries, cakes, and teas at your leisure.
India's first Six Senses Spa
India's first Six Senses Spa, unit of the globally acclaimed spa chain from Thailand, at the resort, will transport you into a tranquil space that your soul has been craving for.
The Six Senses Spas' philosophy of balancing all the senses is creatively represented in the spa menu, which features nurturing and soothing treatments as well as results-oriented therapies and personalized programmes undertaken by expert therapists.
Whether it is the traditional detox hammam experience or diverse Ayurveda rituals to purify your senses, we promise that you wouldn't want to step out of this rejuvenation heaven.Kid Friendly Vacation
When on vacation with your kids, leave your worries behind as the resort provides with a child-friendly play area – Wet Feet – so that the little ones can have the fun of their own!
Jaypee Greens Golf & Spa Resort boasts of lifestyle elements making you experience innovative, chic and comfortable accommodation where you can work, rest and play.
Luxurious accommodation, outstanding golf course, award-winning spa and waking up to the marvelous greenery – doesn't this make for your next perfect escape?
Looking for a rejuvenating summer holiday in NCR? Book your stay at Jaypee Greens Golf and Spa Resort now!