Summers are just around the corner and it's time to plan your summer holidays before all the best spots are taken. Mussoorie is one of the most pristine and preserved hill stations in India. If you have not explored this serene little place amidst the misty Himalayan foothills yet, pack your bags this summer for a romantic getaway in Mussoorie.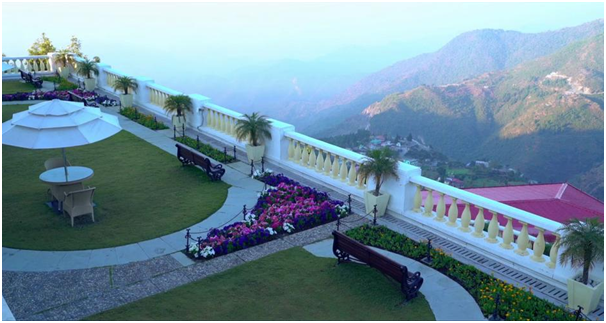 Mussoorie is located in the Dehradun district and is about 290 kilometres from Delhi. You can reach Mussoorie by hiring a cab or through Dehradun railway station or airport.
Things You Can Do While On a Romantic Holiday in Mussoorie
Shopping
Well, it's obviously on the top of our list as Mussoorie has some of the most exotic local markets such as the Kulri Bazaar, Landour Bazaar, and Library Point. You can buy antique items, artificial jewellery items, and native art and craft mementoes here.
Wine and Dine
A romantic getaway is incomplete without an exquisite culinary experience. Mussoorie has a host of cafes and food joints to satiate your tastebuds. If you are looking for a more discerning experience, visit the Jaypee Residency Manor Hotel in Mussoorie. This boutique hotel is known for its unstinting luxury and an unmatched fine-dining experience.
A Walk in The Hills
Well, it's called a hill station for a reason. The beatific hills and forests of Mussoorie make them one of the best places to revel a lovely nature walk.
Visit the Happy Valley
As the name itself signifies the beauty of this magical place, the Happy Valley is a place for love birds to nest and enjoy the beauty of nature. There are several attractions here such as the Municipal Garden, Tibetan Temple, and the IAS Academy.
Stay at Jaypee Residency Manor Hotel in Mussoorie
The Jaypee Hotel in Mussoorie is one of the town's iconic landmarks. Located on a hilltop, the hotel offers a 360-degree view of the surrounding dales and verdant valleys. Book your stay at Jaypee Residency Manor Hotel to give your beau a special summer vacation.
You can book your hotel in Mussoorie online from the Jaypee Hotels website. To know more about the 5-star facilities at Jaypee Residency Manor Hotel in Mussoorie, click here.