Summers are just around the corner, and it's time to plan your summer holidays before all the best spots are taken. Mussoorie is one of the most pristine and preserved hill stations in India. If you have not explored this serene little place amidst the misty Himalayan foothills yet, pack your bags this summer for a romantic getaway in Mussoorie.
Mussoorie is located in the Dehradun district and is about 290 kilometres from Delhi. You can reach Mussoorie by hiring a cab or through Dehradun railway station or airport. The pleasurable weather, dazzling mountain views and lush greenery make Mussoorie a sought-after summer holiday destination in India. It is the most convenient and quiet getaway for you, away from the hustle-bustle, mundane and busy lives of the cities.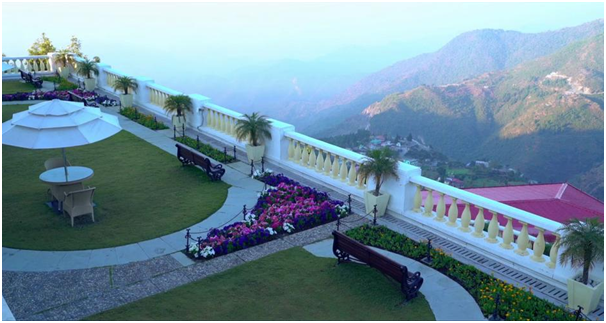 Things You Can Do While On a Romantic Holiday in Mussoorie
Shopping
Well, it's obviously on the top of our list as Mussoorie has some of the most exotic local markets such as the Kulri Bazaar, Landour Bazaar, and Library Point. You can buy antique items, artificial jewellery items, and native art and craft mementoes here.
Places To Visit
Apart from the mountains and tranquil views, there are several other spots to look for when you are in Mussoorie. Like Christ Church is the oldest church in the Himalayas and is a must-visit for all tourists. Kempty falls and Company garden are other famous tourist attractions that are unwinding and relaxing.
Fun Activities To Explore
Various fun activities can be explored this summer. One can try various activities like trekking, hiking, adventure sports, rock climbing, etc. Get the thrill of adventure and sports through these activities in Mussoorie. These undiluted times spent with nature provide you with the much-needed time for rejuvenation and relaxation.
Wine and Dine
A romantic getaway is incomplete without an exquisite culinary experience. Mussoorie has a host of cafes and food joints to satiate your taste buds. Jaypee Residency Manor offers intimate dining experience for couples called 'The Celebrations Table'. The dining spot is set on the terrace overlooking the Doon valley which makes you believe that you are dining in the clouds.
A Walk in The Hills
Well, it's called a hill station for a reason. The beatific hills and forests of Mussoorie make them one of the best places to revel a lovely nature walk.
Visit the Happy Valley
As the name itself signifies the beauty of this magical place, the Happy Valley is a place for people to nest and enjoy the beauty of nature. There are several attractions here, such as the Municipal Garden, Tibetan Temple, and the IAS Academy.
Stay at Jaypee Residency Manor Hotel in Mussoorie
Jaypee Residency Manor is the best 5-star hotel in Mussoorie, offering an exquisite and memorable experience to all our guests with impeccable hospitality and safety standards. Located on a hilltop, the hotel offers a 360-degree view of the surrounding dales and verdant valleys. The Jaypee Residency Manor in Mussoorie is also one of the town's iconic landmarks.
Surrounded by picturesque and serene Himalayas, our hotel provides unique indulgences with fun activities in the summers. Apart from offering a stupendous and secure stay to the guests, the hotel is also known for its exceptional service that will definitely make your trip to Mussoorie unforgettable. You can come and explore a sanctuary of indulgence, luxury and holistic rejuvenation with Jaypee Residency Manor, Mussoorie.
If you are looking for a more discerning experience, visit the Jaypee Residency Manor Hotel in Mussoorie. Our boutique hotel is known for its unstinting luxury and an unmatched fine-dining experience as well.
Safety Precautions for a Stress-Free Vacation
During these times of COVID-19, we are diligently taking necessary safety precautions for safeguarding the interests and health of our guests. To ensure a worry-free stay for our guests, some of the safety guidelines that we follow include:
Thermal screening at the main entrance for both our guests and hotel employees
Mandatory Aarogya Setu app with green signal
Filling up of the declaration form at the restaurant entrance
Contactless check-ins to ensure minimal human touch
Practice of digital transactions throughout the hotel, including restaurants
Social distancing factored for seating and service processes
Disposal items being preferred
Staff trained as per FSSAI guidelines
Cleaning and sanitization of the kitchen/restaurants done as per FSSAI
We are offering exquisite and luring summer holiday packages at our hotel. These summer packages are definitely great ones to explore the infinite luxuries and comfort of our 5-star resort in Mussoorie. Book your stay at Jaypee Residency Manor Hotel to give yourself and your family special summer vacation. To know more about the 5-star facilities at Jaypee Residency Manor Hotel in Mussoorie, click here.
Book directly with us on www.jaypeehotels.com to get the best package rates and availability. You can write to us at reservations.jrm@jaypeehotels.com or call us at +91-135-263 1800/6602000.
Read More: 3 Best Places Near Delhi For Summer Holidays