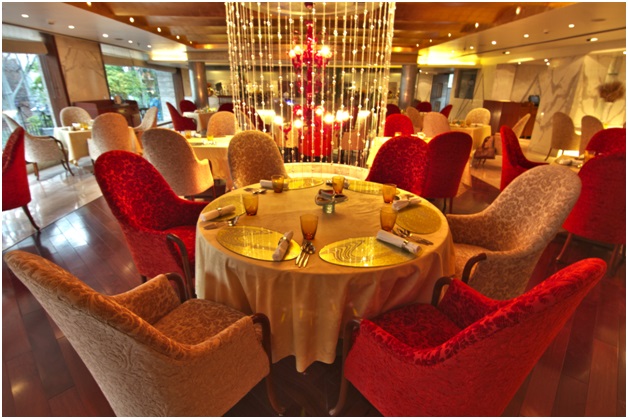 The true meaning of love is never settling for less than perfection. Make your valentine night really memorable, Jaypee Siddharth's Valentine Special Packages includes owning a cabana for just you and your partner, decorated with rose petals, candle-lit dinner with a glass of cocktail or wine of your choice with personalized butler service at Rs 24,999 plus taxes per couple.
You can accompany your partner in the most romantic evening of the year for our special Poolside Candlelit dinner or Lunch. Our Chef have specially prepared the 4-course menu and mocktails for the occasion. You can avail this package at INR 5,500/- AI per couple (Lunch & Dinner).
Click Here for: Valentine's Day Hotel Packages in Delhi, Jaypee Siddharth
And…who can deny that Happiness in Paradise. We know how amazing it is to make someone feel special, so we've got a Dinner at Paradise package.  It lets you give that happiness to your partner which includes 4 course candlelit chef special menu for lunch and dinner and heart shape cake at Rs. 15000 plus taxes per couple .
If you are someone who wants to make this Valentines a little more comfortable and personalize you can treat your partner with our perfectly designed romantic Pool Side Cabana package – only at Rs. 24,999 plus taxes, which includes 4 course candlelit chef special menu for lunch and dinner and heart shape cake and champagne.
The other packages on our hotels in Delhi offer you to choose from include Dinner at Cafe Resto. Treat your princesses with an amazing array of dishes with the four-course set menu Candlelit dinner with rose petal décor on the table at INR 4500 plus taxes for the couple.
And if you are a true desi at heart and want to woo your loved one with a desi treat, then Dinner at Paatra is the answer to your question! Take your partner on a filmy journey into the pind of Punjab with our Punjabi themed dinner buffet and romantic retro music at Rs. 5000 AI plus taxes (only dinner) for couple.
Enjoy the Valentine day eve at Tapas, voguish lounge bar offering the finest spirits and wines from India and abroad. Fill your taste buds with Global Gourmet and 2 glasses of Sangria Rs. 5000 AI plus taxes for a couple.
To make your day memorable, you can also opt and add on to the above mentioned packages to send an unremarkable invitation through our very special cupid connect service which includes a personalized invitation to your partner for Valentines dinner at our chosen specialty with a bunch of roses and a heart shaped cake with invitation letter at for just Rs 999 plus taxes.
Dinner Timing: 7 pm onwards.
Venue: Jaypee Siddharth Hotel, 3 Rajendra Place, New Delhi
Contact Details:
T: 011-8920741789 | 9711057028
Also Check: