Working with a hotel conference centre can significantly simplify the sometimes tricky process of planning a conference. Allow your conference team to assist you with the planning process rather than spending your time looking up venues, locating caterers, and organising audio equipment. 
Fortunately, you've reserved hotel conference space. In that case, you'll have staff to assist you and ensure your event goes as smoothly as possible. In addition, you'll have all the assistance you need to manage your event, including a dedicated event manager, A/V support, and catering servers, so you can concentrate on providing a high-quality conference rather than on the minute details. 
Your upcoming event will undoubtedly be a massive success if you choose the best business hotel in Delhi that offers you state of the art conference facility. 
Essential Qualities To Look For In A 5-Star Business Hotel In Delhi 
Location
When travelling for business, being placed kilometres from where the real business would be conducted is the last thing you need. Therefore, it's crucial to pick a hotel with a convenient location. When visiting a large city like Delhi, choose a convenient location and be in the middle of the action. 
Business Resources 
Given that you are travelling to the hotel to do business, you would search for a hotel with excellent business amenities. This entails having functional printers, fax machines, photocopiers, and someone on hand to assist you in connecting to the network and using the equipment. 
Meeting Room
Think over your itinerary for your work travel. Will you require a location to host clients, customers, or other workers? If the answer is yes, find a hotel that provides conference space per your requirement so you can finish your business. 
Room Assistance 
A decent business hotel will provide room service until the wee hours of the night. Additionally, complimentary in-room coffee and tea-making amenities should be provided so you can work well into the night without frequently ordering refreshments. 
Free Internet Access 
There should be complimentary internet service throughout the hotel, including in your room, even though wireless access is preferred in today's technologically savvy environment. 
Consultancy Services 
A competent concierge can assist you with anything from calling a taxi to recommending restaurants for your clients. If the service is offered, taking advantage of it is highly recommended because their local knowledge can be invaluable. 
Value For The Money 
Choosing a hotel that satisfies all your requirements while remaining within the company's budget when travelling on business is challenging because you are probably working under a budget. 
An Alarm Service 
If you have been driving for a long time or working late and need to get up and go, this can be an absolute requirement. However, a casual attitude toward this stuff can be a massive turnoff for visitors. So it goes beyond simply providing this service. 
Other Resources
Even if it's just a short while, it's crucial to carve out some alone time when travelling for work to unwind and stop worrying about your to-do list. The best method to achieve this is to use a hotel's gym or other recreational amenities, which should be on your list of "must-have" items while evaluating potential lodging. 
A little bit of exercise can do wonders for your ability to unwind; even better, if you can find a gym with a spa where you can make reservations for a massage or other service to help you carve out some much-needed relaxation after a tiring day.
Breakfast
The most excellent way to start the day is with a satisfying meal, especially if you know it will be a long one with few opportunities to pause and eat. Although receiving a complimentary breakfast is preferable to paying an additional fee, you really want to know if the breakfast you receive is suitable. 
Jaypee Hotels: The Most Reputable Destination For Business Events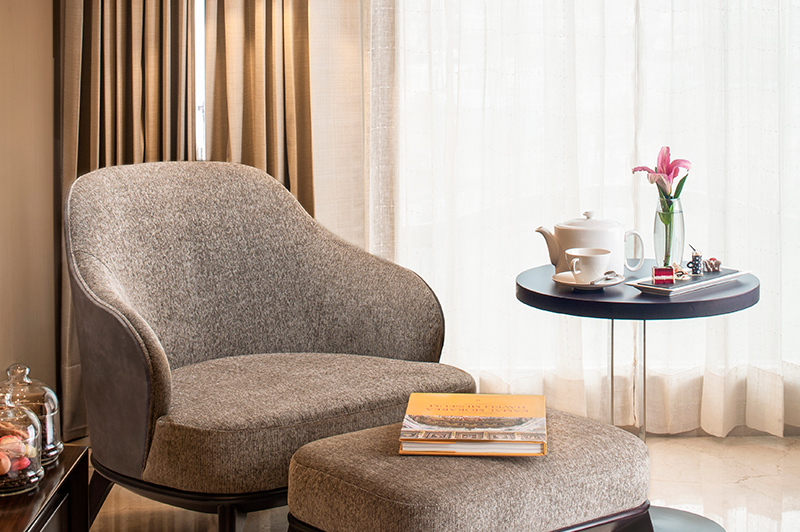 You can have everything you need at The Jaypee Hotels, the best 5-star business hotel in Delhi, to run an effective corporate overseas training program. Corporate clients can use deluxe accommodations, hospitality services, individualised dining menus, and relaxing activities at the on-site spa. They can unwind and recuperate in the peaceful gardens and poolside facilities after a busy business day in the surrounding area.
Our meetings and events team will ensure success, whether you organise a small meeting, conference, training seminar, corporate launch, cocktail party, or team-building event. The hotels offer different options for space, seating arrangement, top-notch audio-visual equipment, a diverse menu, and themes to make your meeting, conference, or event memorable. 
The Jaypee Vasant Continental is noted for its convenient location in the heart of New Delhi's Diplomatic Enclave and the best hospitality services, making it a top business hotel in Delhi. The distances between this opulent building and New Delhi Railway Station are 8 km, 12 km, and 13 km, respectively. 
In contrast, Jaypee Siddharth is located 14 kilometres from the domestic airport, 18 kilometres from the international airport, and 5 kilometres from the New Delhi Railway Station. So, contact us immediately if you're seeking a place to hold business meetings in Delhi.
Read also – 7 Important Tips to Conduct Productive Business Meetings In Hotel